'In the Wake of the Cockleshell Heroes'
Talk
by speakers
Roger and Sandra Downton
for
Clubs, Organisations, Ex-service associations, etc.
Their voyage and the history of Operation Frankton lightheartedly and eloquently presented by
the engaging couple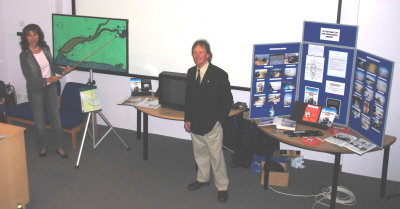 A thrilling talk by a daring couple, as featured on BBC TV. This is the true wartime story of a courageous World War II attack by canoe on enemy shipping in the docks of Bordeaux, and is cleverly interwoven with the present day escapade by Roger and Sandra Downton. Armed with very little canoeing experience and a waterproof navigation chart, they survived the many mood swings of the giant, rapid flowing waters of the River Gironde. They paddled the seventy five mile exact course of this dangerous mission, camping rough on the banks of the muddy river. Their nostalgic, engaging presentation creates a dramatic, absorbing and respectfully light-hearted account of their challenging canoe adventure paddling in the wake of the legendary Cockleshell Heroes. Their talk is punctuated with unpredictable and amusing scenarios; your imagination will be fired as you share their chilling and humorous moments.

Roger Downton served with the Royal Green Jackets before embarking upon a career in acting and stand-up comedy. He later formed his own film company at Shepperton Studios and for six years performed his unique cabaret act aboard world cruise liners before meeting his future wife Sandra, a dance teacher and highly acclaimed Belly Dancer. They are both seasoned performers and members of both British Equity and The Speakers Agency.
During Roger's formative years he was extremely interested and enthusiastic about the Cockleshell Heroes of World War II Operation Frankton. Combined with Sandra's subsequent fascination with the subject, they unanimously decided to accept the challenge, and make the same gruelling and perilous journey by canoe down the giant flowing River Gironde to the docks at Bordeaux as their personal tribute to those brave men.
They have written a book about their adventure entitled
"In War Heroes Wake"
Foreword by Bernard Cornwell. ISBN 0-9550166-0-6
Date Sheet
2017
Tuesday
Tuesday, March 28, 2017
2.30pm The Shillingstone Seniors' Club, Portman Hall
Tuesday
Tuesday, April 4, 2017
1.30pm Winchester Ladies Luncheon Club, Winchester Tennis and Squash Club, Bereweeke Road
Friday
Friday, September 15, 2017
7.45pm Gussage St Michael Community Hall Association,Village Hall, BH21 4HY.  For tickets contact Susan on 01258 840634 
Monday
Monday, October 16, 2017
7.30pm The Holy Angels Mothers Union group, The Holy Angels, Lilliput Road, Poole
Date Sheet
2018
Monday
Monday, January 8, 2018
2.00pm Verwood Ladies Luncheon Club, Crane Valley Golf Club, Verwood
Wednesday
Wednesday, March 28, 2018
8.45pm Fitting Out Supper, Poole Yacht Club
Monday
Monday, September 24, 2018
Conservative Club, Alcester
Monday
Monday, December 10, 2018
2.00pm Christchurch U3A, Christchurch Baptist Church, 1 Beaconsfield Road, BH23 1QT
Date Sheet
2019
Monday
Monday, February 11, 2019
2.00pm Verwood Ladies Luncheon Club, Crane Valley Golf Club, Verwood, Dorset
Tuesday
Tuesday, March 5, 2019
The Dorset Region of the Jaguar Enthusiasts' Club, Hamworthy Club, Magna Road, Canford Magna
Friday
Friday, March 8, 2019
7.30pm Freyern Community Association, Greenways, Chandlers Ford, SO53 2LE
Thursday
Thursday, October 3, 2019
1.50pm Probus Club of Wimborne, Cobham Sports & Social Club, Merley Road, Merley, Wimborne
October 2017
Dear Roger and Sandra
I am writing on behalf of Lilliput Mothers' Union Group to say a huge thank-you for coming to talk to us on Monday evening. Without fail everyone thoroughly enjoyed your informative and witty talk.
How adventurous of you both to plan and take such a journey and to document it. It was good to compare what you went through and the journey of the Cockleshell Heroes.
Once again, thank-you both very much.
Katherine Leeks

April 2017
Dear Mr and Mrs Downton
Thank you for your talk to the Winchester Ladies Lunch Club.
I know our members thoroughly enjoyed your very professional presentation, and the way you linked your journey to the original one.
Thank you so much.
Yours sincerely,
Shirley Lovell (programme secretary)
Winchester Ladies Lunch Club

April 2013
Dear Roger and Sandra

On behalf of the members of The Probus Club of Poole, I wish to express our sincere thanks for the excellent and interesting talk about your 'Gripping Adventure' you gave us at our meeting.

You hardly need me to tell you how much your informative and entertaining talk on your re-enactment mission was really appreciated by our members. In particular, having seen the power of the tidal flow along La Gironde myself, I admire your courage and tenacity in doing what you did in such a small and vunerable canoe.

Thank you again for your time in visiting us and very much hope that we have the opportunity of welcoming you to our Probus Club again to present another of your talks.

Your sincerely

Geoffrey Holland
Speaker Secretary
The Probus Club of Poole
February 2013
Hi Roger and Sandra

We did enjoy your presentation last night. It was the first time in 30 years in Rotary that I have had the pleasure of a duet ! It was very interesting - the Club clearly enjoyed it and I still have your book to enjoy.

Thanks again

Michael Samuel
The Rotary Club of Sturminster Newton
September 2012
Hi Roger and Sandra,

I thought the book was awesome and am looking forward to seeing one of your talks.
Cheers,
Neil,
Preston, Lancashire
September 2011
Dear Roger & Sandra
I would like to thank you on behalf of the Society for the 'In the Wake of the Cockleshell Heroes' talk on Monday 12th September 2011.
The talk was very enjoyable and I know that I learned a lot about the actual operation that took place during the Second World War. I particularly enjoyed your own experiences of retracing their steps and the training you previously had (or lack of). The way that the talk was delivered was very good and how you changed from the actual mission to your own experience.
I have your details on file so that I can contact you again in the future.
Thanks again.
Yours sincerely

Nichola Hannaford (Mrs)
Dorset Family History Society
September 2011
Dear Roger and Sandra

What a superb afternoon all our members experienced yesterday. We did enjoy your presentation as it was so informative and put over with such enthusiasm and humour (your professionalism was so apparent and greatly appreciated.) It was the second time I had heard it and was fully absorbed by the whole project.
Best wishes

Pam Black
Programme Secretary
Southampton and District Centre of National Trust
January 2011
Dear Roger and Sandra

Thank you very much for coming to the Totton South U3A group to give your talk on your daring adventure following in the wake of the Cockleshell Heroes. It was an exciting and stimulating description of a remarkable project. You are to be congratulated that it proved to be so successful in the face of considerable risk. Many members of the audience have said how much they enjoyed your presentation and in particular how impressed they were at what was evidently a true team effort.

Kind regards

John Dracass
Speaker Coordinator
Totton South U3A
November 2009
Dear Roger and Sandra

Many thanks coming to talk to us last Thursday evening. Without exception your talk was enjoyed and well received particularly the way in which you presented and interleaved the past with your own journey. Whilst some of our members have cruised fairly widely and encountered bad weather, over the years, I don't think many, if any, would have undertaken canoing up the Gironde Estuary ( summer or not! ). Many thanks and all the best to you both.
Brian Harris
Wessex Cruising Association
May 2009
Dear Roger and Sandra Downton

Thank you so much for your excellent talk. Every one of our members to whom I have spoken since has made very complimentary remarks about your very good and fascinating presentation. We all admire your bravery and of course the great courage of the original Cockleshell Heroes.

I hope you enjoyed your visit to Emsworth and District U3A, we certainly appreciated your coming to share your knowledge and experiences with us.

Yours sincerely

Mrs Lynn Cowell
Emsworth and District U3A
April 2009
Dear Mr and Mrs Downton

Thank you so much for coming to our Club meeting on Wednesday last, so soon after your return from France and giving us the best talk we have ever heard. The passion and respect you feel for the brave men who carried out the operation in 1942 was obvious and I loved the way you each told the separate stories - theirs and yours. It was an inspirational subject and you brought it to life for us. There was no danger of anyone talking during your presentation! My son-in-law was so interested to hear about your story that he would like to buy the book.

On behalf of our members, I wish you every success in future presentations and any further adventures you may have in mind.

With kind regards and many, many thanks for a truly lovely evening.

Yours sincerely

Mrs Valerie R Foice
Greenfingers Leisure Club, Poole
December 2008
Dear Roger and Sandra

Very many thanks for last night's fascinating lecture. I particularly enjoyed the way you wove your adventure into the acount of the heroes' expedition. I learnt a great deal, as I am sure, did many other people. It was a memorable members' night.

With all good wishes.

Johanna Turner
Lecture Secretary
Sherborne Historical Society
September 2008
Dear Roger and Sandra
On behalf of our Association I would thank you both most sincerely for the very interesting talk you gave us at West Moors on Monday afternoon. I know I speak for all those attending in saying that the subject was a first in that I am sure none of our members have canoed up two rivers for five days, sometimes for seven hours at a stretch, their limit probably having been thirty minutes on the local boating lake.

Planning and organisation was clearly the key to your success and I am sure we all recognised the ability and courage you both obviously have. In all it was an extremely enjoyable afternoon and I hope that in time to come it might be possible to book you to hear another of your talks.

Brian Tanner
Speaker Secretary, East Dorset National Trust Association
August 2008
Dear Roger and Sandra
I can still feel that German guard's torchlight shining down on me, so vividly did you describe those closing moments of the Cockleshell Heroes epic mission during the war. It really does bring home to people of our age, who would have been school children at the time, how much we all owe to our parents and their generation.

How courageous of you both to want to replicate their voyage and how nail biting some of your own adventures were, as you both so admirably, humourously yet modestly described to us last Thursday.

I know that I speak on behalf of all our members in passing on our very grateful thanks to both of you for such an exciting presentation, with well thought out back up material and photographs. Probus members are fortunate in being of an age that can relate to presentations of a historical nature.

Again, very many thanks for your presentation and my best wishes.

Lt Col MRC Weiner
Speaker's Secretary, Stour Valley Probus
May 2008
Dear Roger and Sandra
Thank you very much for your very interesting and entertaining presentation at our meeting on Tuesday. I am sure you are well aware of how much it was appreciated by our members and visitors as a very welcome addition to our programme.

A report of the meeting will be sent to the Bridport News and another will be included in our Newsletter for members.

Once again many thanks for a very enjoyable afternoon.

Roland S Moss, Programme Organiser
Bridport History Society
May 2008
Dear Roger and Sandra

Thank you very much for coming to give us such an interesting talk. It was greatly enjoyed by our members. Your talk certainly brought the tale of the Cockleshell Heroes to life and your adventures were equally exciting.

Once again, thank you very much for coming to speak to us.

Kate Roberts
Speaker Secretary, U3A Monks Brook
February 2008
Dear Roger and Sandra

Many, many thanks for the fantastic talk you gave to us on Tuesday. How very nice to meet you both and to hear your talk "In the Wake of the Cockleshell Heroes", so cleverly interwoven with the journey of the real Cockleshell Heroes. You certainly held the attention of all of our members. It is quite difficult to find a subject that pleases and interests everyone but my goodness you did it splendidly on this occasion. I heard nothing but praise for you both and thank you once again for entertaining us so well.

Yours

Jackie Burling
Torbay Womens Luncheon Club
February 2008
Dear Roger and Sandra

On behalf of everyone in Poole U3A, I would like to thank you both for a splendid presentation, novel, stimulating and most enjoyable.

Thanks again.

Tony Pawley
Poole U3A
October 2007
Dear Roger and Sandra

I must thank you for your recent presentation to Portsmouth U3A. Everyone agreed that it was a very interesting and gripping account of your daring and oftern hazardous tribute to the galant heroes who went before you. You really 'did us proud' too, bringing along maps, photographs and artefacts which ably illustrated your talk, and gave us a greater insight to 'what went on' in both journeys - indeed the format of your talk, employed by your two intrepid selves, added a 'keener edge' to the narration.

On behalf of Portsmouth U3A, very many thanks for your visit to us.

With kind regards

Jean Poar, Speakers Secretary, Portsmouth U3A
October 2007
Dear Roger and Sandra
I write to thank you both once again for your splendid talk and presentation at our lunch on Wednesday.

I know the ladies thoroughloy enjoyed hearing of your exploits, and relating it to the conditions and circumstances in which the Cockleshell Heroes undertook their daring raid brought a greater understanding of what they endured and achieved. Yours was a most fitting tribute.

I hope you will have many more safe and happy adventures in 'Sardine'.

Yours sincerely

Blenda Hailes
Speakers Secretary, Parkstone Yacht Club Ladies Luncheon
October 2006
Dear Roger and Sandra
This is a huge 'thank you' for the wonderful evening you spent with our W.I. on the 24th . Your story had us all spellbound. I hope you don't mind, but I was asked for your details by our President's husband as he has some connection with a French organisation whom he thought would like to hear about your journey. Thank you both again, it was lovely to meet you.
Yours sincerely
Sheila Woodman
Programme Secretary. Verwood WI
July 2006
Dear Roger and Sandra
Might I kindly refer to our Rotary Club last Wednesday and add my personal thanks to those that were expressed by Rotarian Keith in his formal Vote of Thanks on the evening.
The feedback I have received from Club Members has been very positive, and it is clearly evident that you are, not only very knowledgeable on your subject, but also extremely enthusiastic about it!
I do trust that you both enjoyed the evening with us, as we valued your company.
Warmest regards,
John Bartholomew
President-Elect (Rotary Club of Ferndown)
December 2005
Dear Roger and Sandra,
We so much enjoyed your presentation on Saturday and are full of admiration for your exploit - thank you for coming to talk to us at our Coffee Morning.
Hazel Hughes, Poole Arts Association
Please go to our Contact page for further information